interior designer website
Shopify Website Project Information
GoDaddy ecommerce re-platforming project for London based, interior designer with a large Instagram following who needed a Shopify interior designer website building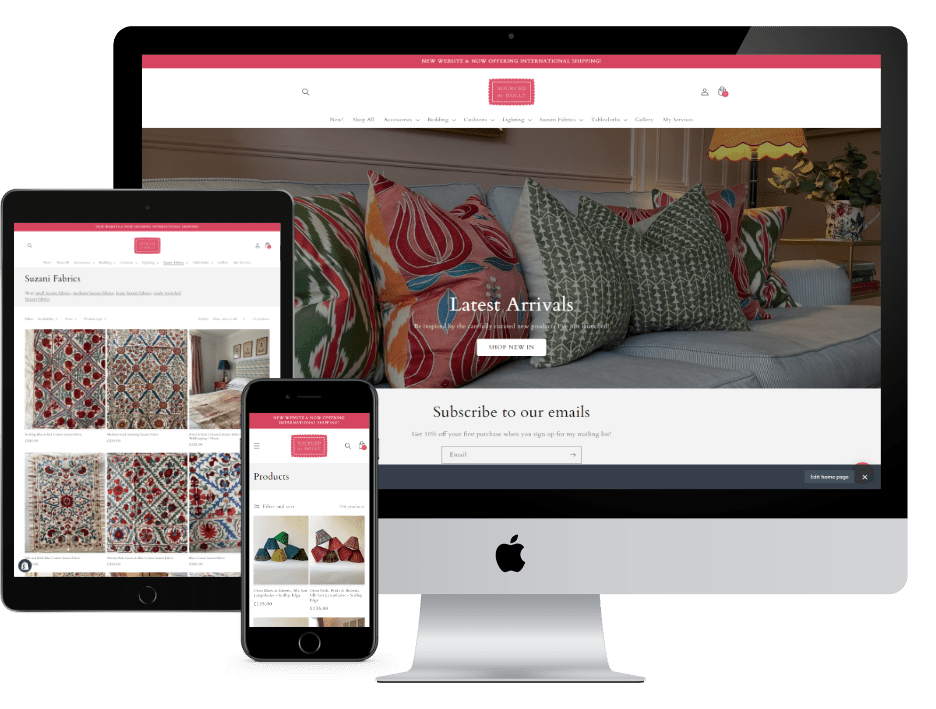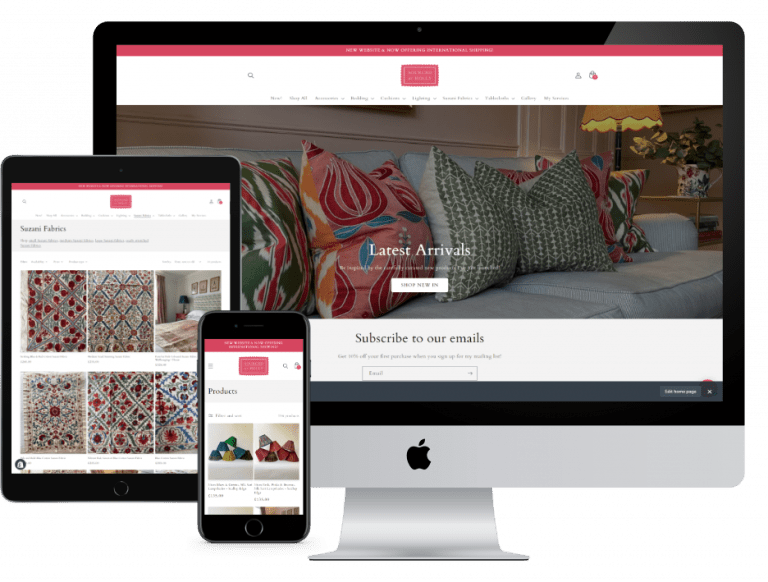 Website Project Specifications
Holly approached RHWebDesigns as she wanted to move off her GoDaddy shop and move her growing online business into Shopify where she could grow and start utilising Shopify markets to offer worldwide shipping.
For any large e-commerce migration project I work on, it's imperative to retain SEO page ranking, customer data, order history and product data to name some of the most important aspects. So once again I worked with the Litextension team for the bulk of data migration side of things. We did experience some limitations with the GoDaddy API, primarily with products that weren't active. The new 'Dawn' theme for Shopify was more than sufficient for this project but of course, there were plenty of design tweaks and Shopify Liquid code changes and development along the way.
As Holly was using GoDaddy's marketing suite, it was essential that Holly had an equivalent software offering to allow her to email to her newsletter list as this was a very successful part of her overall engagement. Klaviyo is my number one choice (sorry Mailchimp), and I recreated the newsletter pop-up, initiated several flows such as abandoned cart and out of stock notifications. I also took full advantage of one of Klaviyo's powerful tools which is A/B testing, to ensure all sign-up forms, flows and email campaigns are always testing data points. Whether that's display condition trigger points or time of day (and time) for optimal email newsletter deliverability and open rate/click through rates (ctr)
I also liaised with InXpress who Holly had chosen for her shipping fulfilment requirements. The previous ecommerce shop on GoDaddy wasn't configured to anything other than standard UK shipping which was harming Holly's conversion rate. Now that I've enabled Shopify markets and improved all of the shipping rules, zones and wording throughout the site, this has already shown very positive signs for Holly and she's now celebrating her first couple of international sales!
Additional, bespoke Shopify development and testing was required for variant inventory syncing. Thanks Mechanic! I also deployed one of my favourite auto tagging Shopify apps to manage Holly's 'New!' collection and product workflow.
The site launch has been an amazing success resulting in over £4k's worth of sales in less than 48 hours. And as with all of my website designs, be it a WordPress site or an ecommerce website, I'll be continuing to monitor the website using a combination of Hotjar for screen recordings and polls/surveys as well as measuring the metrics within Google Analytics and Google Search.
Contact me today to find out more about how I can launch your business on Shopify!
Richard was super helpful, he took the time to truly understand exactly what I needed from the very beginning and then not only built me a brilliant website, but he went above and beyond to make sure I had the tools to run it myself going forward.
He came up with excellent suggestions and ideas which I hadn't thought of myself, always going the extra mile to ensure I understand the process and felt happy with each stage.
I could not recommend him more, a truly brilliant service from start to finish!