Shopify Website Project Information
Ionos to Shopify migration for an extremely popular bee products for sale ecommerce business from Exeter, Devon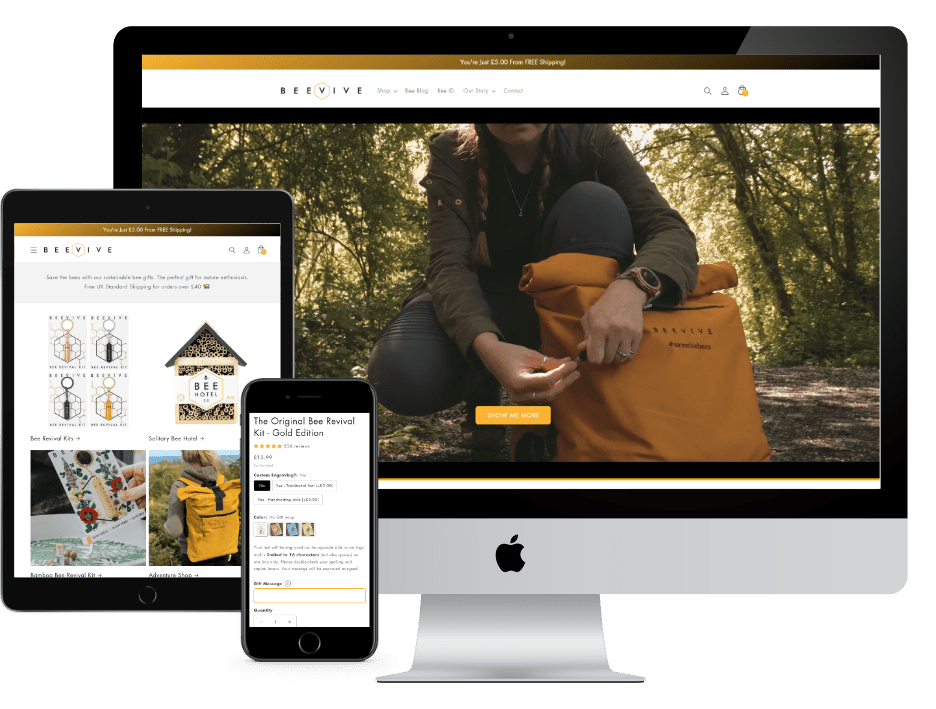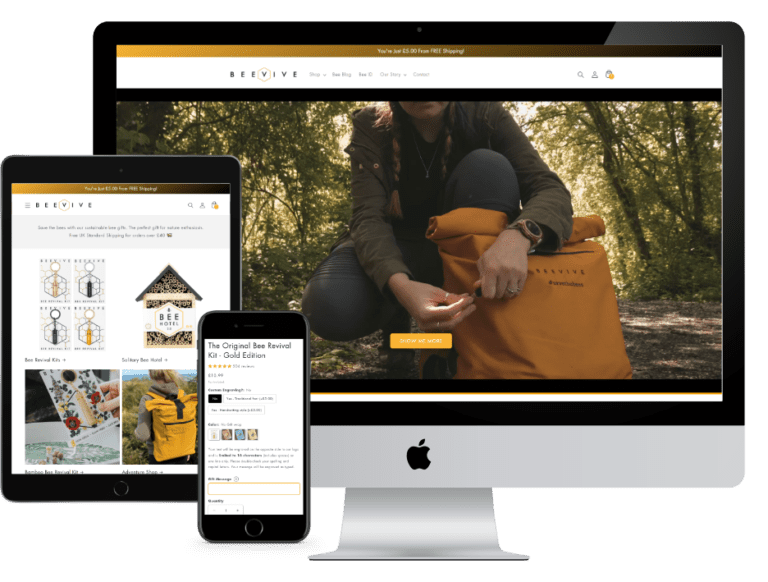 Website Project Specifications
I was made aware that the owners of Beevive.com were looking to replatform from Ionos to Shopify from one of my newest contacts based in North Devon.
From the get go, I had a fantastic working relationship with Faye & Jake, the founders of the hugely popular Beevive.com website. We had daily interactions on WhatsApp as well as emails and their passion for bees was incredible. The Ionos to Shopify website migration project took just over 3 months to complete. It was critical that we had zero downtime and no SEO was lost. From the early results we're seeing on the digital reporting platforms, I can happily say that not only are sales up due to Shopify's platform increasing checkout conversions, but Google is also indexing more pages and appreciating the rich, dynamic structured data (rich snippets) we've now introduced with the customised Shopify Dawn theme code.
I love designing new ecommerce website but I do really enjoy working on ecommerce migration projects, they're a bit of a passion of mine! LitExtension's expertise were called on for the heavy lifting and data mapping.
The Beevive website had minimal functionality and the guys were relatively happy with the design scheme overall. One of the biggest issues was that it didn't look great on every device, especially mobile. And as mobile design for web should be right at the top of any good Shopify website designer, it was critical that I chose a solid Shopify theme for the task.
The most exciting (and sometimes challenging) aspects of the Shopify website project work were:
Custom Shopify website design and liquid template development using Shopify's Dawn 2.0 theme.
Manually adding, optimising over 30 blog posts
Many custom pages
Keeping the number of apps used to an absolute minimum
Researching/deploying Shopify apps to manage variant product customisations
Ensure stock syncing through use of the 'bundles' app
Finding a solution to map and migrate nearly a thousand Etsy product reviews
Deploying customised Klaviyo 'Add to Cart' and 'Back in Stock' code
Working in phases to ensure all order and history imported without disrupting existing Klaviyo
Other areas of the project required a real time 'free shipping bar', All in One Discounts solutions, back-office redirects, Royal Mail Click & Drop app, Klaviyo, Judge.Me and Search & Discovery app to improveme filters, predictive search and related products.
Stage 2 will see a Wholesale offering as well as adding some final 'nice to haves' that were discussed throughout the project but weren't mission critical for launch.
Contact me today to find out more about how I can successfully launch your business on Shopify
Five-star service, quality of work and knowledge! We couldn't recommend Rich at RHWebDesigns enough, thanks to the recent re-development of our website and transition from IONOS to Shopify. No detail goes overlooked and we are buzzing with the end result! Thank you from your bee pals at Beevive