Wordpress Website Project Information
Sun Spark Solar's previous website was out of date and didn't even have a valid secure SSL certificate. Time was of the essence as the business uses Google Ads to drive traffic. I worked with Laurie over a couple of months to obtain all the updated info and imagery to allow me to create a solar website design for his Teignmouth based business which would stop visitors bouncing from the site and help keep readers engaged with the content.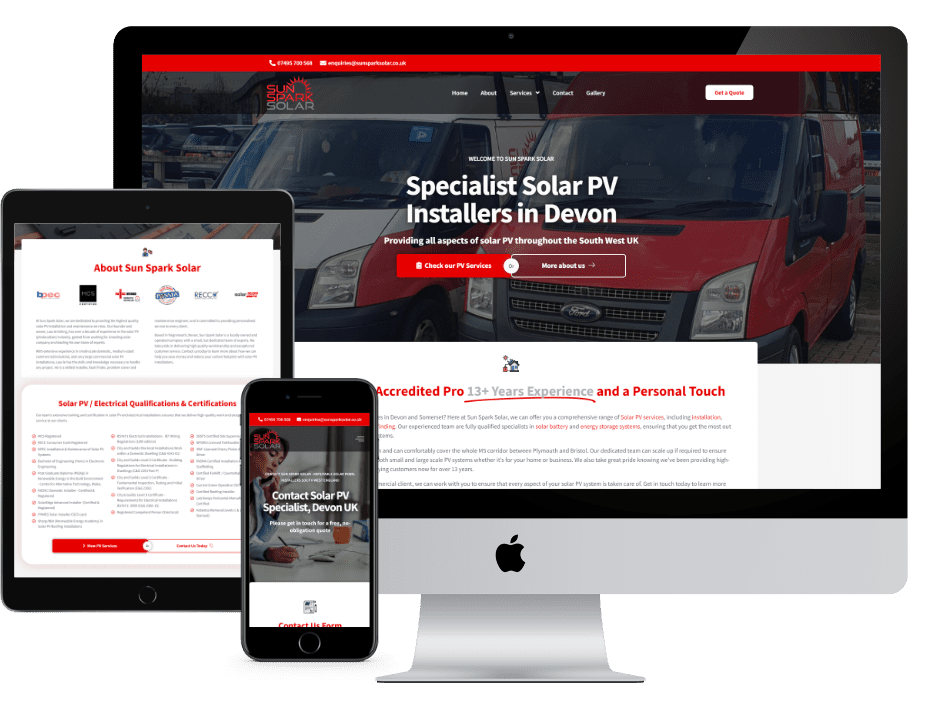 Website Project Specifications
Solar Website Design: Creating Bespoke Websites for Solar Energy Companies
Are you a solar power or solar energy installer in need of a solar website design built for your business which will showcase your work and also highlight your services? I can offer you a customised website design using WordPress.
Laurie, a solar installer from from Teignmouth, Devon contacted RHWebDesigns as he liked my portfolio of work and also the information on my site. He needed his website improving and fast as not only is he paying for Google Ads, they also had a local leaflet drop which was about to be delivered!
I worked closely with Laurie and we agreed on an optimal site structure, improved site navigation, updated image gallery as well as a complete revamp of all the copy and services information.
We also highlighted the business' recent Google Reviews and made all the optimisations we could to stop paid traffic bouncing from his website, the website didn't even have a valid secure SSL certificate!!
To meet all of these requirements, I was always going to use WordPress as I know WordPress design inside out and it's so user-friendly, offering the widest range of customisation options, making it perfect for a solar energy business like Laurie's.
The biggest page changes came in the 'about us' page as we both agreed that the previous page's information read more like an online C.V. After only two revisions, I am happy to say that I nailed it! We've now focussed on the key accreditations and qualifications and designed the page in a way that makes is attractive on the eye with further deep linking to optimise for Google Bots.
The final WordPress website design exceeded Lauries' expectation, he was so happy with everything I'd done for him, he even paid a little bit more on his final invoice. Nobody has ever done that and I was deeply touched by this gesture.
As with everyone I work with, I don't just build the websites and go, this is a long term business relationship, I am here for you, to help ensure your website is working to the best of it's capacity. One idea I had which we might develop later on in the year is the contact form. I use Metform and I think an upgrade to the Pro version will provide us with the functionality we're looking for, so watch this space!
If you're looking for assistance with how to build a great solar energy website design or if you're a solar panel installer requiring a low-cost website design, please contact RHWebDesigns today!
I offer custom-built, affordable websites to meet your budget using WordPress! So contact us today to learn more about my Devon website design services for and how I can help your business grow and thrive online.
Fantastic; knowledgeable and personal service from start to finish. Richard was very helpful and full of great ideas and good insights. And my new website looks amazing!! Would totally recommend to anyone looking for a new/updated website or SEO.