custom baby product website designer
Shopify Website Project Information
Woocommerce to Shopify migration for a personalised, knitted baby product business from Leicester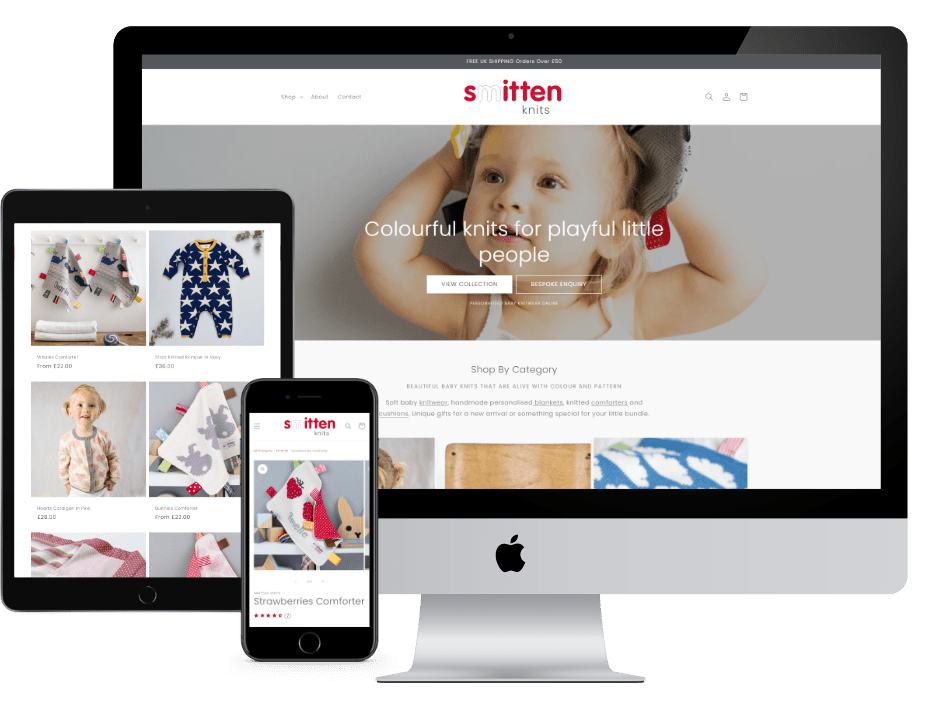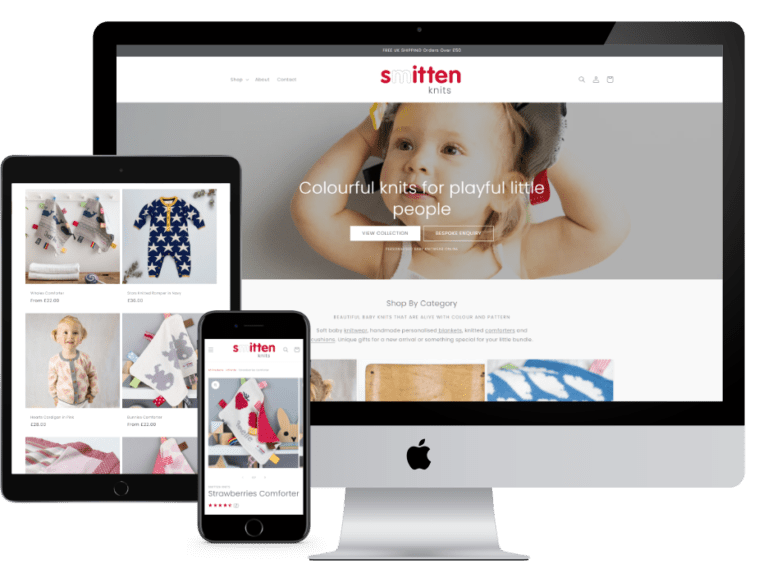 Website Project Specifications
I had a super working relationship with Rosie whilst migrating her 'custom baby product website' from Woocommerce to Shopify.
Large ecommerce migration projects are a bit of a passion of mine so I couldn't wait to start transferring order and customer history to Shopify. Once again, I called on the expertise of LitExtension, and worked closely with them in the early stages of this website project to migrate data from Woocommerce to Shopify.
Since Rosie's Woocommerce website had limited functionality, the design of her ecommerce website was relatively straightforward, so I didn't face too many challenges (which is always a blessing). The most exciting aspects of the Shopify development work were:
Implementing custom product personalisation features (design your own personalised baby if you will!)
Creating custom Shopify templates for collection pages
Using Shopify product and collection metafields
Setting up Google Ads.
Looking back, these were the most rewarding areas of the project. I think the result is one of best baby product websites for knitted baby items! (But I'm biased!)
Other areas of the project involved a full implementation of Klaviyo including flows, branding, custom templates as well as a full Facebook Meta Suite implementation so we could have all the usual pixel, events and shoppable Facebook & Instagram Shopping feeds and implementation elements.
These are some other key areas involved with this Shopify build:
Product personalisation including logic
Import of Woocommerce Order & Customer data
Replace FloDesk with Klaviyo
Google Ads (Mix of campaign types ( Brand / Google Shopping (purely using the data feed) / Performance Max (P-Max) campaigns for knitted baby comforters and knitted baby clothing)
Google Merchant Center
Google Sheet creation to manage Google Ads (formerly Adwords)
Map and import reviews from Not On The High Street (NOTHS) to Shopify
Setup Google Sales Channel for Shopify
Configure Shopify Markets
SEO: Onpage SEO and Technical SEO such as 301 redirects, monitoring 404's and implementing SEO Schema Markup for Shopify
Bespoke Shopify 2.0 website design and liquid template development using Dawn 2.0 theme.
Shopify Metafields
One of the questions Rosie asked was "How to connect Shopify to Google Merchant Center?" Below are some of the necessary configuration steps to enable Shopify Google Ads:
Install and configure Simprosys' Google Shopping Feed app in Shopify
Add Google Sales Channel and configure Shopify
Connect Google Merchant Center to Shopify store – create a Google Merchant Center account first.
Work through Google Merchant Center Shopify verification
Create and configure Google Merchant Center for Shopify
Create a Google Ads account
Connect all of the above accounts
Create an initial campaign cluster consisting of: Brand / Google Shopping (purely using the data feed) / Performance Max (P-Max) campaigns for knitted baby comforters and knitted baby clothing.
Configure Shopify Google Ads conversion tracking
Rosie's really happy with the finished Shopify website design and she has quickly learnt the Shopify dashboard and is able to add new product, collections, edit the site herself using Shopify's theme editor.
Various systems/companies that were involved in the project: Ionos, Paypal, FloDesk, Dropbox, Google Analytics, Google Search Console, Facebook, Instagram, and WordPress.
Future Digital Marketing Plans – Create Facebook Ads For Shopify Store:
Creation of Facebook Ad campaigns using a variety of ad formats available (photo/video/stories/product)
Run tests to see what works/what didn't work.
Use Facebook funnels for awareness, consideration and conversion
Create/definite target/lookalike audiences
Remarketing
Contact me today to find out more about how I can successfully launch your business on the Shopify platform!
I cannot recommend Richard enough. He has taken great care to listen to my requirements and executed them brilliantly. He has advised me on things I have been unsure about and his communication is amazing!