gluten free bakery website
Shopify Website Project Information
Re-platforming to Shopify for an award-winning, gluten free bakery website based in Honiton, Devon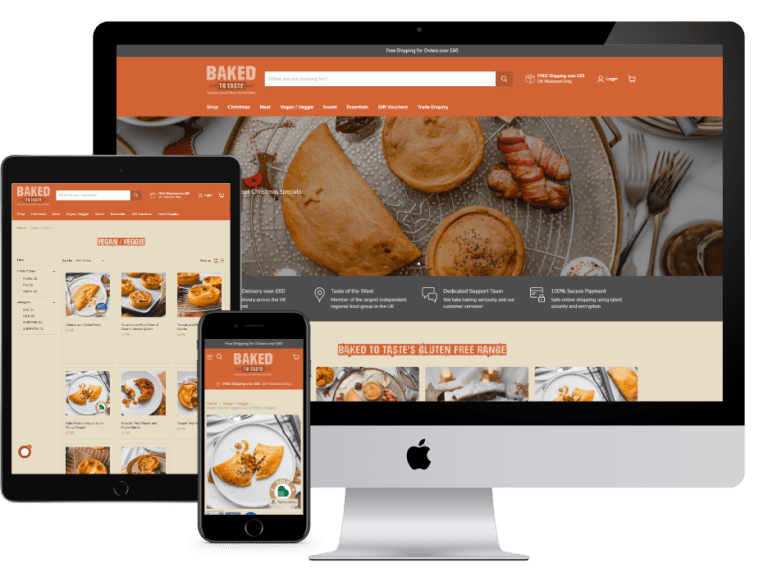 Website Project Specifications
Based off of a recommendation, Suzi contacted me to see if I'd be interested to help migrate them onto Shopify. I leapt at the chance and both parties thoroughly enjoyed the entire project.
Big website migrations are a big passion of mine and I just can't wait to get stuck in! And with such a popular brand with amazingly, delicious food, there was quite a lot of order and customer history to import into Shopify. This was another easy decision to work with the amazing people at LitExtension.
There were a couple of very interesting mini-development pieces around this build which focussed around developing a pick and mix, postcode checker and adding a trade element to enable trade customers to purchase online.
Combining Shopify's product metafields and Shopify liquid and css, I was able to add the font and brand customisation that Suzi was looking for. The result really pops on the product details page when you see the heading and addtocart colours match the product packaging.
I mentioned above about the Postcode checker, this was something that Suzi really needed me to improve over the previous website and their main brand, ChunkofDevon. Through sheer dogged determination, once again, the goal was met… no more messing around with Google Sheets and cancelling/refunding orders which they were shipping to!
A full implementation of Klaviyo with flows, branding, templates was required as well as a complete Facebook Meta Suite implementation so we could have all the usual pixel, events and shoppable Facebook & Instagram Shopping feeds and implementations.
In the first two weeks of go live, BakedToTaste already exceeded their expectations and I'd also like to thank Oli at WebBoss for helping with the data extracts and for also being patient with the delayed go-live dates!
Contact me today to find out more about how I can launch your business on Shopify!