Woocommerce and Custom Amazon & eBay API Web Development
BargainGamesUK were selling video games and consoles on eBay & Amazon and approached RHWebDesigns to develop a fully-optimised Woocommerce site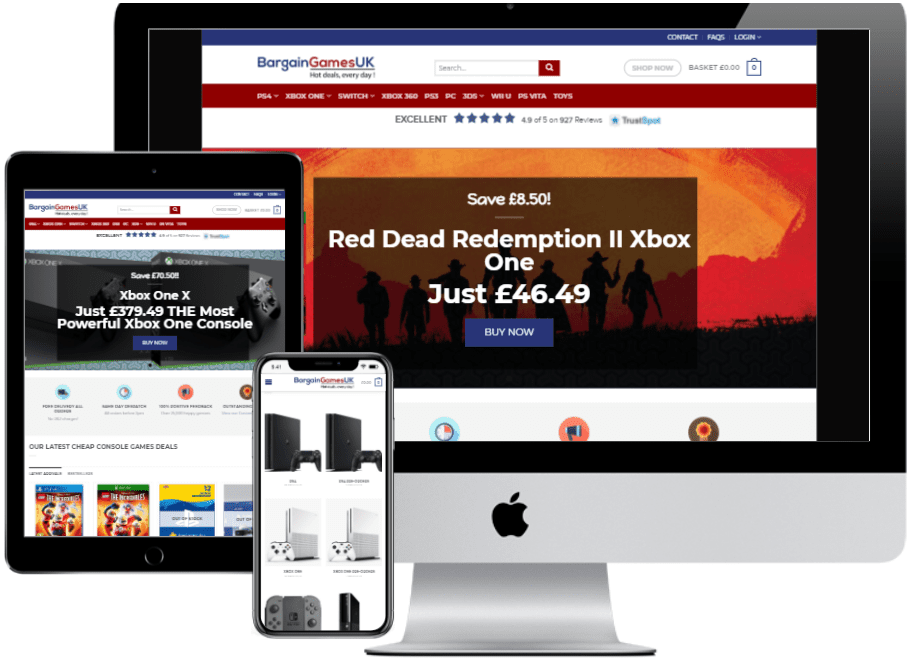 Website Project Specifications
Jon was selling via eBay and Amazon marketplaces and asked me to develop a fully optimised Woocommerce store so he could further expand his business' multi-channel offering. It was really important that Jon and the team at Bargain Games UK had a lot of back-office customisation. That was achieved through a series of bespoke plugins which ultimately made it extremely easy for the team to transition into using the CMS and the Woocommerce system that runs on WordPress.
Some of the finer achievements on this project was going from zero to hero accumulating business reviews on the Trustspot reviews platform but also to thoroughly optimise their Google Adwords PPC campaigns. Who wouldn't be happy with a minimal spend with maximum returns on investment. Jon couldn't ship those games out the door quick enough. The last integration I wanted to mention was to develop their eBay storefront and connect eBay and Woocommerce to allow Jon to have products automatically display on his eBay shop as soon as they'd been published in the back office on Woocommerce.
We regularly updated the homepage to ensure the 'virtual shop-front' window was working as hard as it should be. Further customisations included: blog, enhanced local SEO, extensive postcode lookup configuration, Google PPC, Facebook product catalogue, Google Shopping and XML product data feed optimisation, eBay & Amazon API to develop a price checking tool.
As the owner of a Paignton-based retail business, I turned to RHWebDesigns when I wanted to enter the world of ecommerce and take my trade online. Rich created a brilliant website from scratch in no time at all – and at a fraction of what I expected such a site to cost! He listened carefully to everything I wanted and delivered an amazing site that has transformed my business, significantly increasing revenue almost overnight.
Although I am new to online retail, Rich was insightful and helpful throughout and has achieved more with the website than I ever dreamed possible. Rich also created a bespoke app for price-checking items on Amazon and eBay. This was a real game-changer for the business, literally saving 100s of man-hours each month. This not only freed up staff to pursue other work, it allowed us to find 1000s more sales opportunities. He really knows his stuff and comes highly recommended. Thanks, Rich!