Shopify Website Project Information
WeLoveCushions based in London were keen to migrate their custom cushions website from their OpenCart e-commerce website and I worked with them to relaunch their business successfully on Shopify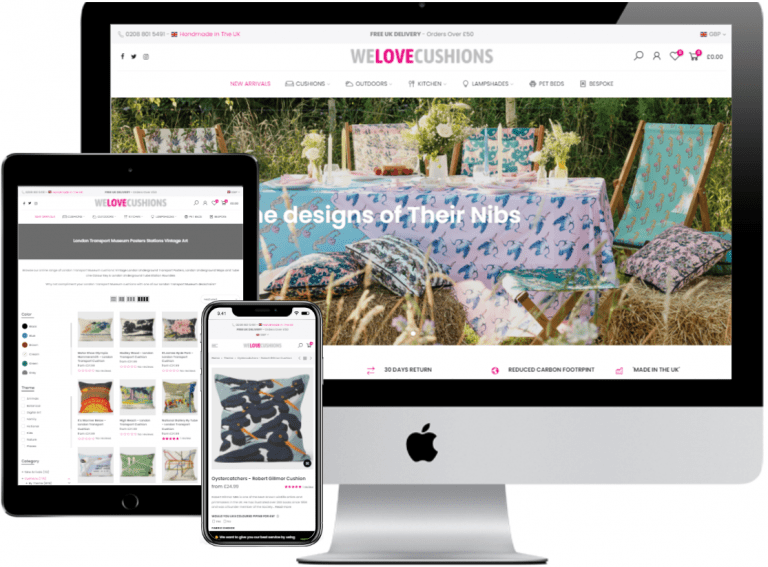 Website Project Specifications
Mark's developer moved on and so he was looking for a passionate ecommerce expert with whom he could have a long-term, working relationship with and more importantly, migrate their low converting website off Opencart and into Shopify.
The brief was pretty clear as the main priority was Mark needed rock-solid uptime and infrastructure, a website which was easy to use, didn't break and offered a lot of flexibility. For me it was a no brainer, WeLoveCushions had to be reborn on Shopify! WeLoveCushions product range was in the thousands, with a lot of focus on variants so I knew I had to work with a proficient team. It was clear after some initial research that the Litextension team based in Vietnam were the only real option to help with the OpenCart to Shopify Migration. These guys were awesome and I really can't praise them enough.
I needed to improve WLC's product data and the experience their old site offered was really poor. I tapped in to my tried and tested ecomms product data experts on Freelancer with a micro-project for them to add colour and theme data for all 2200 products. This would instantly improve the faceted/filtered search user experience which is really important with such a large catalogue and range. One cannot rely just on search, or just on header navigation. I find as many signposting areas as possible work, this should ultimately help reduce bounce rate too. Mark's really happy with the site and we're both looking forward to a long-term relationship.
Next, the trade/wholesale website and then moving on to multi-channel market places such as Amazon, Wayfair & Faire
Contact me to discover how I can launch your custom cushions website business on Shopify!
What a find! Richard is passionate and customer attentive he listened to my requirements planned for the future helped us migrate from our old site and hosting to a more stable customer friendly and ultimately taking more orders already NEW site 5 stars all-round!