oil painting artist website
Shopify Website Project Information
Chris Newson is an abstract oil painter who needed his oil painting artist website migrating from ClikPic. He approached RHWebDesigns and now he has a successful Shopify website selling some of his best oil paintings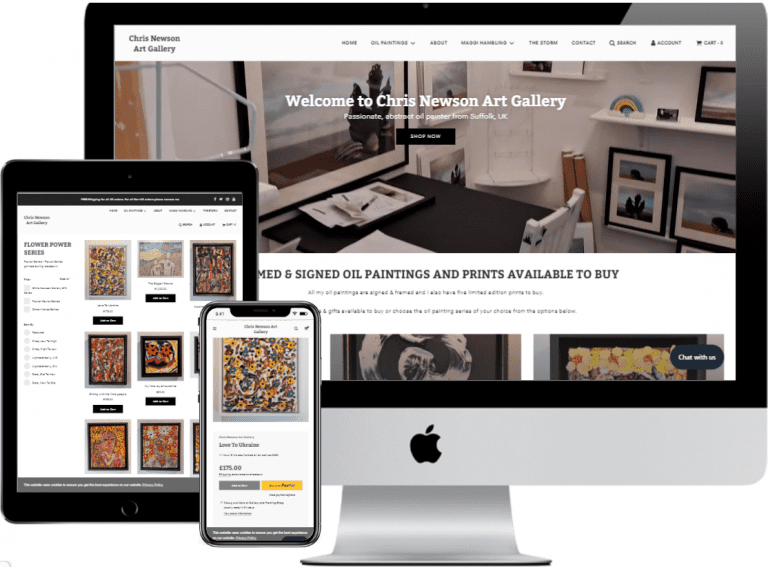 Website Project Specifications
Chris has run his oil paintings gallery and framing shop for some time and his online presence was in the form of a ClikPic website. He reached out to me to see if I'd be interested to help him build him a brand new site on the Shopify platform which he had 'dabbled' with a few years ago. I jumped at the chance as I could easily see some ideas that could work really well with a clean, minimal Shopify theme and design.
There was quite a lot of product image work to crop, straighten and enhance the original images Chris had. A decision was made to outsource this particular area of the build so I could stay focussed on building the core Shopify site whilst letting the graphic designer work her magic! At the end of the day, the missions was clear, to create one of the best oil painting websites I could.
Chris has been an absolute pleasure to work with and we built up a great working relationship and we're hopefully going to explore more print on demand opportunities in the future to help him with his '1-Stop Scallop Shop' merchandise. This is in association with Maggie Hambling CBE, a painter best known for her public-works such as the 'Aldeburgh Scallop' and 'A Conversation with Oscar Wilde'
Contact me today to discover how I can build a website that sells original oil paintings for sale!
I can not praise Richard enough . Right from the start good communication. He has done everything asked and more. In a very short time I realised I had found the right man for the job. Trust this man I have and really glad I did. Chris Newson Artist